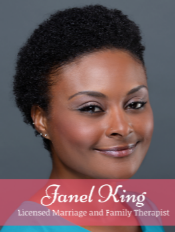 Janel King, Co-founder
Licensed marriage and family therapist 
Are there times when you cannot explain the overwhelming emotions you are experiencing. I enjoy helping those who are seeking change and are motivated to do so. I believe people should always work toward becoming their best selves. I work with individuals, families, children, and adolescents. If your family is suffering from functioning in a loving and happy manner and you cannot figure out where the problem lies, family therapy may be the right choice for you. From learning to function with a new baby, blending, or newly transitioning teenagers, I can help.

I work from a loving space where I will assist you by building on your current strengths. Work together and individually in helping your family function to the best of the family's abilities.

If your child is struggling with an issue you cannot seem to help them overcome. I offer parent training, we will work through the struggles of setting limits, fear of bringing home a new baby for mother and father, or learning to understand the importance of bonding with your children.