What's new with us
Welcome to our Newsletters!
Each month, we publish a Newsletter. See here for more information about our newsletters! Clicking the images will take you to the PDF newsletter.
Domestic Violence Awareness Month - Published 10/19/2020
In this October edition, hear from therapist Janet Matthews as she discusses domestic violence, dancing, and life.  As Halloween approaches, we have some tips and tricks to stay safe and have fun this upcoming spooky season. 


National Recovery Month - Published 09/14/2020
SAMHSA's National Recovery Month is about the journey of transition, and we celebrate this transition period in our new newsletter. In this September edition, learn more about how URCC is supporting clients in their own transitions!

Celebramos el poder del arte - Published 08/11/2020 
El bóletin para este mes enfoca en el mes del Aprecio de Artistas Americanas—celebramos el poder del arte y el artista. Conozca más sobre nuestro equipo que ha crecido y las artistas destacadas del mes,  además de cosejos para la temporada de regresar a la escuela.

Celebrating the Power of ART - Published 08/11/2020 
This month's newsletter focuses on American Artist Appreciation Month—we are celebrating the power of art and the artist.  Learn more about our growing team and the two featured artists of the month, as well as tips for the back to school season.

Redescubrir el autocuidado - Published 07/13/2020 
Este mes nuestro Newsletter se enfoca en el cuidado personal. ¿Y adivina qué? ¡URCC esta aquí para ti! Conozca nuestro boletín del mes y todo el nuevo contenido que viene, desde comer helado para disminuir la ansiedad hasta nuestro increíble rincón de las mascotas. Tenemos mucha información divertida e interesante para que usted se cuide y se informe, ¡incluso en esta cuarantena!


Rediscovering self-care - Published 07/13/2020
This month's newsletter is all about self-care and guess what? URCC has your back! Learn about this month's newsletter and all the fun content, from using ice to decrease anxiety to our amazing pet corner! We have a lot of fun and interesting information for you to take care of yourself and get informed, even in quarantine!


Feliz Mez LGBTQ+ - PUBLISHED 06/20/2020
El equipo de pasantes está compuesto por jóvenes de todo el país y de distintos intereses profesionales, habilidades y antecedentes. Está conformado por Matthew Lioe, Nicole Golba, Armando Torres, Uzoamaka Nwafor, Juan Ramírez, Miranda Díaz y Jun Park. Cada individuo aporta habilidades desde un diferente aspecto que hace a URCC tan especial. ¡Pasa un tiempo y conoce los rostros detrás de la pantalla!

LGBTQ+ PRIDE NEWSLETTER - Published 06/20/2020
The internship team, composed of individuals spanning from across the United States and from different professional interests, expertises and backgrounds, features Matthew Lioe, Nicole Golba, Armando Torres, Uzoamaka Nwafor, Juan Ramirez, Miranda Diaz and Jun Park. Each individual brings skills to a different aspect of what makes URCC so special. Spend some time getting to know the faces behind the screen!

Black Lives Matter Newsletter (Español) - Published 06/15/2020
Nunca llegamos a imaginar que viviríamos una pandemia moderna y protestas nacionales contra la brutalidad policial y el racismo sistemático en 30 días. Es como si reviviéramos las historias de nuestros abuelos y bisabuelos mientras soportamos la angustia mental de hoy. El consejo de URCC está comprometido a servir a la comunidad a medida que hacemos historia y luchamos por el cambio para que las personas afroamericanas... importen. Continuaremos sirviendo a la comunidad creando espacio y capacitando a las personas para cambiar la narrativa acerca de el bienestar de la salud mental. El personal y los médicos de URCC tienen el honor de servirle en estas situaciones de agotamiento emocional y mental.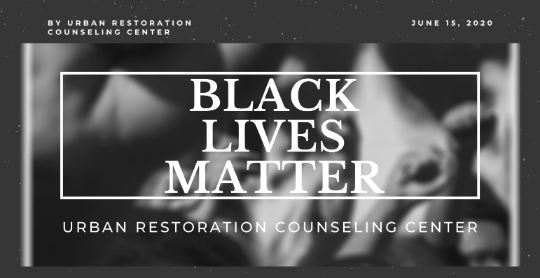 Black Lives Matter Newsletter - Published 06/15/2020
We never could have imagined experiencing a modern day pandemic and nationwide protests against police brutality and systemic racism within 30 days. It's as if we are reliving the stories of our grandparents and great grandparents while enduring the mental anguish of today. Urban Restoration Counseling Center is committed to servicing the community as we make history and fight for change for black people to... matter. We will continue to create space and empower the community to change the narrative around mental health wellness. The staff and clinicians at URCC are honored to serve you through these emotionally and mentally exhausting situations.